Marble, with its timeless beauty and exquisite elegance, has been a staple in architectural design for centuries.
Architects around the world have a keen eye for selecting the finest marble that can transform spaces into works of art.
In this comprehensive guide, we will delve into the world of marble and explore the best choices according to architects' discerning tastes.
From classic white marbles to exotic variants, we'll uncover the crème de la crème of marble selections.
1. Introduction to Marble in Architectural Design
Marble, a metamorphic rock formed from limestone, has captivated architects and artists throughout history. Its luminous surface, unique veining, and ability to take a high polish make it a prime choice for architectural masterpieces. Let's delve into why architects are drawn to this timeless material.
The Enduring Allure of Marble: The natural beauty of marble is unparalleled, radiating a sense of luxury and opulence. Its distinct colors and veining patterns create a sense of movement, giving life to static structures.
Marble's Role in Architectural History: From the grandeur of ancient Greek and Roman temples to the Renaissance cathedrals of Europe, marble has stood as a symbol of architectural excellence.
Why Architects Choose Marble: Architects are enamored by marble's versatility – it can be carved, polished, or left raw, allowing for a wide range of design possibilities. Its ability to withstand the test of time while retaining its elegance is another compelling factor.
2. Criteria for Selecting the Best Marble
Architects are meticulous when it comes to selecting the right marble for their projects. Several factors influence their choice, ensuring the marble meets both aesthetic and practical standards.
Aesthetic Appeal and Veining: Architects seek marbles with unique veining patterns that enhance the visual interest of spaces. Veins can range from delicate and subtle to bold and dramatic, contributing to the overall ambiance.
Durability and Longevity: Marbles chosen by architects must withstand the rigors of time and usage. A durable marble ensures that the architectural masterpiece remains stunning for generations.
Maintenance and Care Considerations: Architects take into account the maintenance requirements of different marbles. Low-maintenance options are favored, especially in high-traffic areas.
Environmental Sustainability: In the modern era, architects prioritize sustainable materials. Selecting marbles that are responsibly sourced and produced aligns with eco-conscious architectural practices.
3. Classic White Marbles: Timeless Elegance
White marbles exude a sense of purity and elegance, making them a perennial favorite among architects. Let's explore some of the most iconic white marbles.
Carrara Marble
Carrara marble, hailing from Italy's Carrara region, is celebrated for its soft gray veins on a luminous white background. Architects adore its gentle aesthetics that seamlessly blend with various design styles.
Carrara Marble
Calacatta Marble
Calacatta marble, often mistaken for Carrara, boasts more prominent and bolder veining. Quarried from Carrara as well, it is characterized by its striking appearance, making it a statement piece in architectural settings.
Calacatta Marble
Statuario Marble
Statuario marble, prized for its rarity and elegance, features bold, dramatic veining that architects often incorporate as a focal point. It emanates a sense of opulence, making it a favorite in luxury projects.
Statuario Marble
Thassos Marble
Thassos marble, sourced from the Greek island of Thassos, is renowned for its crystal-clear white appearance. Its subtle elegance and ability to reflect light make it a popular choice for both interior and exterior applications.
Thassos Marble
4. Exotic Marbles: Unconventional Beauty
For architects seeking to push the boundaries of design, exotic marbles offer a world of unconventional and captivating options.
Calacatta Marble: Known for its white background and dramatic, bold veining ranging from gray to gold.
Calacatta Marble
Statuario Marble: Highly prized for its pure white background and striking gray veining.
Statuario Marble
Carrara Marble: Famous for its soft gray background and subtle veining, it is often used in sculptures and architectural details.
Carrara Marble
Emperador Marble: Comes in different variations, like Dark Emperador (brown) and Light Emperador (beige), with characteristic light to dark veining.
Emperador Marble
Portoro Marble: A black marble with gold and white veining, often used for luxurious interiors.
Portoro Marble
Onyx Marble: transparent marble with rich, vibrant colors and intricate veining, often used for decorative applications.
Onyx Marble
Nero Marquina Marble: Black marble with striking white veining, creating a bold and elegant look.
Nero Marquina Marble
Rosso Levanto Marble: Known for its deep reddish-brown color and white veining.
Rosso Levanto Marble
Rainforest Marble: Known for its unique brown and gold patterns that resemble the textures of a rainforest.
Rainforest Marble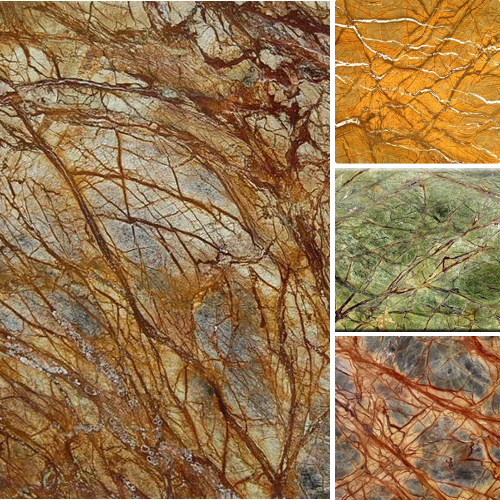 Honey Onyx Marble: It features warm honey tones and translucent qualities, making it ideal for backlighting.
Honey Onyx Marble
Arabescato Marble: White marble with gray or black veining, creating an artistic and dramatic effect.
Arabescato Marble
Breccia Aurora Marble: Features a mix of warm colors and dynamic patterns, creating a visual masterpiece.
Breccia Aurora Marble
Red Levanto Marble: Rich reddish-brown marble with white or golden veining.
Red Levanto Marble
5. Contemporary Marble Trends in Architecture
Architects are known for their ability to embrace evolving trends. Here are some contemporary ways they are using marble to create cutting-edge designs.
Bookmatching and Waterfalling: Architects are adept at bookmatching marble slabs to create mirror-like symmetrical patterns. Waterfalling involves extending marble patterns down the sides of furniture or countertops.
Geometric Patterns and Inlays: Intricate geometric designs and inlays are becoming increasingly popular. Marbles of varying colors are used to craft mesmerizing patterns and shapes.
Mixing Marble with Other Materials: Architects expertly blend marble with materials like wood, metal, or glass to create stunning contrasts and harmonious combinations.
Statement Furniture and Fixtures: Marble is now gracing statement pieces like tables, sinks, and bathtubs, adding a touch of luxury and sophistication to everyday items.
6. Real-Life Architectural Masterpieces Using Marble
Marble has played a pivotal role in some of the world's most iconic architectural wonders. Here are a few examples that showcase the splendor of this exquisite material.
The Taj Mahal, India
The white marble magnificence of the Taj Mahal is a testament to architectural brilliance. Its intricate marble inlays and translucent qualities leave visitors in awe.
The Pantheon, Rome
The awe-inspiring dome of the Pantheon, constructed with stunning white and gray marble, has been an architectural marvel for over two millennia.
Sheikh Zayed Grand Mosque, UAE
This modern architectural wonder boasts intricate marble floral designs and its grandeur is accentuated by the use of luxurious white marble.
The New York Public Library, USA
The Rose Main Reading Room features classic elegance with its majestic white marble columns and ceilings, creating an atmosphere of scholarly grandeur.
7. Budget-Friendly Marble Alternatives
While the allure of marble is undeniable, it may not always fit within budget constraints. Architects are resourceful in exploring cost-effective alternatives that mimic the beauty of marble.
Cultured Marble: Made by blending marble dust with resin, cultured marble offers a similar aesthetic at a fraction of the cost.
Engineered Quartz: Engineered quartz surfaces replicate the look of marble while being more durable and resistant to staining.
Porcelain Tile with Marble Effect: Porcelain tiles with marble patterns offer a versatile and budget-friendly option for achieving the marble look.
Laminate Countertops with Marble Patterns: Laminate countertops can mimic marble patterns convincingly, making them an excellent choice for budget-conscious projects.
FAQs
Is marble suitable for high-traffic areas?
Yes, certain marble varieties known for their durability, such as granite and quartzite, are suitable for high-traffic areas.
How can I maintain the beauty of marble in the long run?
Regular cleaning with a mild, pH-balanced cleaner and promptly addressing spills can help preserve the marble's beauty.
Does marble require sealing?
Yes, most marble types benefit from periodic sealing to prevent stains and etching.
Can marble be used outdoors?
Yes, certain marbles like Thassos and Verde Guatemala are suitable for outdoor applications due to their resistance to environmental elements.
What is the average cost difference between natural marble and its alternatives?
Natural marble is typically more expensive than alternatives like cultured marble, engineered quartz, or porcelain tiles.